All major search engines such as Google, Bing and Yahoo have primary search results, where web pages and other content such as videos or local listings are shown and ranked based on what the search engine considers most relevant to users. Payment isn't involved, as it is with paid search ads
What is SEO?
Search engine optimization ( SEO ) is the practice of increasing the quantity and quality of traffic to your website through organic search engine results
What goes into SEO?
To understand what SEO really means, let's break that sentence down and look at the parts :
Quality of traffic. You can attract all the visitors in the world, but if they're coming to your site because Google tells them you're a resource for Apple computers when really you're a farmer selling apples, that is not quality traffic. Instead you want to attract visitors who are genuinely interested in products that you offer
Quantity of traffic. Once you have the right people clicking through from those search engine results pages (SERPs), more traffic is better
Organic results. Ads make up a significant portion of many SERPs. Organic traffic is any traffic that you don't have to pay for
How SEO works
You might think of a search engine as a website you visit to type (or speak) a question into a box and Google, Yahoo!, Bing, or whatever search engine you're using magically replies with a long list of links to webpages that could potentially answer your question
That's true. But have you ever stopped to consider what's behind those magical lists of links?
Here's how it works: Google (or any search engine you're using) has a crawler that goes out and gathers information about all the content they can find on the Internet. The crawlers bring all those 1s and 0s back to the search engine to build an index. That index is then fed through an algorithm that tries to match all that data with your query
Building an SEO-friendly site
Once you're ready to start walking that SEO walk, it's time to apply those SEO techniques to a site, whether it's brand new or an old one you're improving
These pages will help you get started with everything from selecting an SEO-friendly domain name to best practices for internal links
Content and related markup
A site isn't really a site until you have content. But SEO for content has enough specific variables that we've given it its own section. Start here if you're curious about keyword research, how to write SEO-friendly copy, and the kind of markup that helps search engines understand just what your content is really about.
On-site topics
You've already learned a lot about on-site topics by delving into content and related markup. Now it's time to get technical with information about robots.txt
Link-related topics
Dig deep into everything you ever needed to know about links from anchor text to redirection. Read this series of pages to understand how and when to use nofollow and whether guest blogging is actually dead.
Other optimization
Congratulations! You've mastered the ins and outs of daily SEO and are now ready for some advanced topics. Make sure all that traffic has the easiest time possible converting with conversion rate optimization (CRO), then go micro level with local SEO or take that site global with international SEO.
The evolution of SEO
Search engine algorithms change frequently and SEO tactics evolve in response to those changes. So if someone is offering you SEO advice that doesn't feel quite right, check in with the specific topic page
Periodic Table Of SEO Success Factors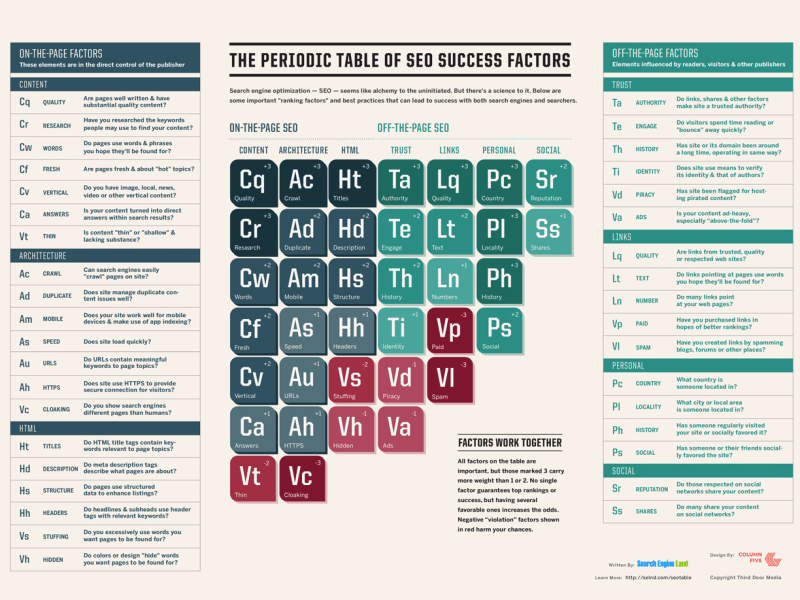 How Does Google Rank Pages?
Google promotes authority pages to the top of its rankings so it's your job to create pages that become authority pages. This involves writing content people find useful because useful content is shared in blogs, twitter feeds etc., and over time Google picks up on these authority signals. This virtuous circle creates strong and sustainable Google rankings.
Types of SEO
As the colors of the types of search engine optimization suggest, there are stark differences in the approach and long-term results of white hat and black hat search engine optimization. Though both types of SEO have their proponents, most companies/websites with long-term, stable, and sustainable goals will tend to stay away from the dark-colored variety
Here is a quick overview
White Hat SEO
White hat SEO utilizes techniques and methods to improve the search engine rankings of a website which don't run afoul of search engine (mainly Google) guidelines
Black Hat SEO
Black Hat SEO exploits weaknesses in the search engine algorithms to obtain high rankings for a website. Such techniques and methods are in direct conflict with search engine guidelines
What Results Are Possible Through SEO
There is often a misunderstanding (due in no small part to SEO sales people) in what a search engine optimization campaign can realistically accomplish. As stated multiple times, elsewhere on this site, search engine optimization is not magic, nor is it an exact science where an action will have a specific and completely predictable reaction. With this in mind, no search engine optimization company can produce high rankings for its clients by simply offering directory submissions, and half-witted articles written by college dropouts who hire out their writing skill so unscrupulous SEO companies for pennies per word.
The below table will provide a means of quick reference as to what SEO can reasonably accomplish, and what it cannot
| Things SEO Can DO | Things SEO Cannot Do |
| --- | --- |
| Improve the search engine friendliness of your website. | Make your website irresistible to search engines so that it will rank for any keyword you desire. |
| Improve your website's ranking for a well-researched group of keywords over a period of months or years. | Improve your rankings for the most competitive keywords in your industry within a few weeks. |
| Improve your website's rankings by utilizing a well planned and executed search engine optimization campaign, which will cost more than you would have guessed. | Improve your website's rankings by using run-of-the-mill services such as free directory submissions, and "article writing", and doing it while keeping the cost no higher than your monthly budget for your morning coffee. |
| Leverage well written, useful, helpful, entertaining, or otherwise interesting content to mount a successful link building campaign which will result in ranking improvements | Leverage low-quality content that your nephew "wrote" (i.e., copied and partially reworded from Wikipedia articles). |
| Optimize your website's textual content by incorporating a select number of keywords into the text (not keyword-stuffing), and utilizing the new text to develop an internal link structure which helps magnify the importance of those keywords for the search engines | Optimize your website's content by using a secret keyword density (that only SEO's know) and help your site shoot up in search engine result pages for your most desirable keywords |